Testimonials
Thanks to Eric, our Hawaiian wedding was simple and elegant and everything we dreamed it would be. Instead of a big hotel in the city, we opted for a cottage on the beach, steps away from the spot where we'd exchange our vows. Eric was amazingly patient through the million changes of minds until the plans were set, and he got everything together for us so it ran smoothly. If (no, when!) we get back to Hawaii, we'll be in touch with Eric and Weekend in Seattle for our travel plans.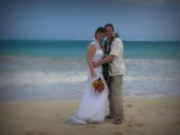 Melissa and Scott Paradis
Providence, Rhode Island
Our Hawaiian wedding was fantasic!!!! Thanks to Eric of A Weekend in Seattle. He got everything arranged in a short period of time and did a wonderful job. Eric was extremely pleasant to speak with on the phone. I will be contacting him when we decide to travel that way again. Thank you Eric!!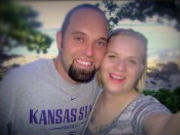 Jillian Oathout and Richard Crumbliss
Wichita, Kansas
We had a wonderful time in Seattle. Eric of "A Weekend in Seattle" set us up in the Marqueen Hotel which was a true delight. Very spacious rooms and a trip back in time to old-fashioned luxury. Centrally located, we could walk just about everywhere we needed to, with a quick hop on the monorail to go downtown. Lots of nearby restaurants too. We went with another couple, and the four of us went on an Urban Wine Tour that Eric recommended. Although we weren't "sophisticated" wine drinkers, we learned quite a bit and had a lot of fun. Plus by the time we were returned to our hotel, we were feeling very "mellow!" All in all, a superb weekend getaway - thanks to Eric of "A Weekend in Seattle" for getting things organized for us. I suspect we'll be back this coming summer for the 50th anniversary Seattle World's Fair celebrations!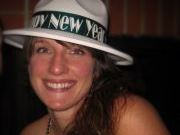 Shannon Bosley and Family & Friends
Aldergrove, B.C. Canada
Eric you did a wonderful job! Everything from start to finish for our Hawaiian wedding/honeymoon was perfect! We really appreciated all you service during the planning process throughout the entire vacation especially a follow up call when our flight was changed to make sure we knew. Thanks so much for all your recommendations, expertise and excellent service throughout our entire vacation!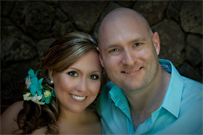 Breanna and William Ballard
Moore, Oklahoma
Eric, you did such a fabulous job taking care of our Hawaii wedding trip! You took care of us while we were there too! We will be giving you a call when we go back to Hawaii!!!! Thank you so much!!!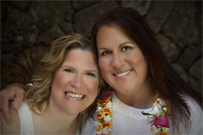 Laura Eisenberg and Natalie Davis
Capitan, New Mexico
Thank you so much for making our travel arrangements for our wedding in Hawaii. I really enjoyed talking with you through our phone calls and emails. The flights you set up for us were perfect and our travel times worked out great. Our seating arrangements on the plane were perfect too and the airline was great at helping me store my wedding dress onboard. Our stay at the Ilikai Hotel was very nice and the staff was friendly and helpful. The room we had was spacious and decorated well and very comfortable. We especially enjoyed the beautiful entry way and lobby and the patio and garden were also very pretty. Our car was nice, it had plenty of room and best of all, got great gas mileage! Thank you for making our travel very easy, and carefree. We had a relaxing trip, which is what we wanted. Our wedding was a fairytale dream come true! It was so nice to be able to just take off and enjoy it!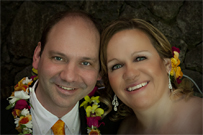 Steve and Liana Helbing
Belmont, Wisconsin
Eric you are fab! Thanks so much for making our Hawaii trip so amazing! We truly appreciated your recommendations and for making everything so effortless, just what we needed. We will for sure be in touch when we are ready for our next trip (hopefully sooner than later!!). Thanks again!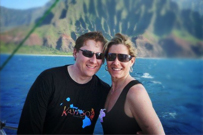 Laurie Finnigan and Darren Rowland
Vancouver, B.C. Canada
Contact Us
A Weekend in Seattle
Snail mail inquiries:
PO Box 207, Seahurst, Washington 98062 USA
Toll Free: 1-877-304-6626
Local calling: 206-395-2165